This retreat was originally designed to be in person, but for the safety of our community, we have shifted gears and decided to offer Overflow virtually! We are excited to be able to connect with women in this new format and look forward to seeing many new and returning faces! So what does a virtual retreat look like? This retreat will be offered with a variety of options for participants to engage in. The first is through daily devotionals that will be accessible for free on our YouTube channel beginning Sunday, Nov. 8th until Friday, Nov. 13th. Anyone will be able to access these videos at any time during the week for daily prayer and reflection. Additionally, participants will be able to register for our Virtual Women's Gathering, held on Saturday, Nov. 14th. We will join together for worship & prayer, Bible study, and small group sessions. We are delighted to partner with Rev. Kim Olson of First Meridian Heights Presbyterian Church who will be our keynote speaker for the gathering. After the success of our Camp to You boxes, we have decided to offer an Overflow Retreat Box available for purchase to supplement your retreat experience. See below for more information. If you can't make it to the virtual women's gathering, that's okay! You can do all of this retreat from the comfort of your home, either alone or in a small group of your choosing. We hope in these uncertain (and somewhat chaotic) times we are living in that this retreat and community gathering will fill your spiritual cup to the brim.
---
Virtual Women's Gathering
We are excited to gather together in fellowship for our very first Virtual Women's Gathering. The gathering will be held on Sat., Nov. 14th from 10:00AM - 12:00PM. We will gather together for worship, Bible study, small group sessions, and will close with virtual communion (don't forget your bread and juice). This retreat was inspired by the devotional The Cup of Our Life, written by Joyce Rupp. In her book, Joyce offers weekly reflections on the symbol of a cup as the vessel of our spiritual lives. While we can't cover the entire devotional, we will be focusing on the theme of Filling My Cup, and will look at the ways our cup has been filled, emptied, and overflowing during the past year. We invite you to bring a cup with you to the virtual gathering. It can be any cup: an heirloom, a souvenir, an everyday coffee mug, etc. We will use our cups to get to know one another and as vessels for spiritual reflection.
---
Overflow Retreat Box
In addition to our virtual retreat, we have created the Overflow Retreat Box to provide you with a retreat experience from the comfort of your own home. Inside the box you'll find camp swag, a DIY mosaic kit, fair trade tea and chocolate from Equal Exchange, as well as a devotional written by our Program Director Rev. Molly DeWitt, filled with daily prayers, reflections, and activities that can be done at the participant's pace. TIERED PRICING What is tiered pricing? Tiered pricing allows individuals to choose the price range that best fits their budget. Recognizing that everyone has varying financial resources, you can choose which tiered option works best for you. No matter which tier you choose, all boxes will include the same contents. Shipping and Handling costs are built into the cost of the box. TIER I: $40.00, a subsidized rate that does not reflect the full cost of the retreat box.
TIER II: $50.00, a partially subsidized rate for those who can choose to pay a little more.
TIER IIII: $60.00, more closely reflects the actual cost of the retreat box, including staffing and production. Retreat boxes are available for purchase through our registration portal below. Boxes will be available for purchase through Friday, Oct. 30th, or until supplies run out. They will be shipped the first week of November.
---
Registration
Registration for the Virtual Gathering will be open until Tuesday, Nov. 10th. Women will follow the link below to register for the virtual gathering and/or purchase their Overflow Retreat Box. You will also have the option to purchase Joyce Rupp's devotional The Cup of Our Life. No purchases are necessary to participate in the Virtual Women's Gathering. We want to make this virtual retreat as accessible as possible and are delighted that you will join us in fellowship.
---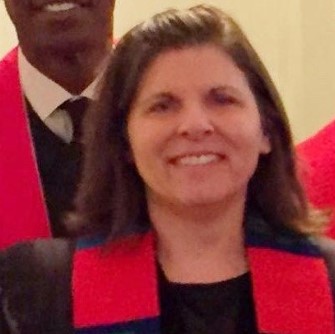 KEYNOTE SPEAKER

Rev. Kim Olson is the Pastor of First-Meridian Heights Presbyterian Church in Indianapolis where she has been having a great time since February 2019 serving among so many creative, welcoming, faithful, and generous folks! Kim moved with her family from Clinton, SC (Trinity Presbytery) to Zionsville, IN in 2006 and began serving as an Interim Pastor in Ohio Valley Presbytery soon after. Kim has also served three churches in Whitewater Valley Presbytery as the Interim Pastor or Interim Associate Pastor. Raised in San Diego, Kim earned a B.A. from Mount Holyoke College in South Hadley, Massachusetts, an M.A. from the University of Texas, Austin, and a Master of Divinity degree from Columbia Theological Seminary in Decatur, Georgia.

Kim has three children: Maya, an IU alum, lives and works in Chicago; Anna, a graduate of Rhodes College in Memphis, TN, recently served as a Fulbright English Teaching Assistant in Thailand; and Graham is a senior at Zionsville High School. Kim and Graham share their home with a high-strung, 6-year-old Staffordshire Terrier mix named Medli and a 9-year-old cat named Luna Lovegood.