High Ropes
$21/person, minimum 8 people
The high ropes course is one part of adventure programming that helps individuals test their abilities and take risks of their choice and level. Pyoca's high ropes course is the ideal way to help individuals define and push their limits. The high ropes course is part of a totaladventure program. Adventure challenge programming allows groups and individuals to accomplish tasks that take them beyond their preconceived limitations.
Social scientists have demonstrated that risk taking helps us learn to deal with our fears and the unknown. High ropes courses use "perceived risk" to create individual challenges and give participants permission to push themselves in a safe environment. Participants on the high ropes course set individual goals and levels they want to achieve. The emphasis is on personal challenges and intensity of effort, not number of elements completed or speed.
A trained facilitator assures safety and helps participants reach their full potential on the course. "Processing" is a post-activity effort, lead by the facilitator, to help the group reflect on and learn from their experience on the course and apply these new insights to other aspects of their lives.
Initiatives
$10/person, minimum 8 people
This program involves challenges that are designed to foster teamwork within the group. Participants will problem solve various Initiatives that build awareness of individual and group potential, improve communication and staff relations, identify leadership skills and talents, develop trust, breakdown barriers to productivity, and encourage personal and group motivation.
Our staff works with your team prior to your experience to identify the specific goals and needs of your group. We then customize a program to cater to those goals. This ensures a quality, personalized program that will give your team the edge!
"Challenge-By-Choice"
A "Challenge-By-Choice" philosophy is used in all our challenge and adventure programs. This basically means that participants are encouraged to attempt each element, but are never forced to try something that feels uncomfortable to them.
In order to incorporate the knowledge and meaning of the teambuilding process, teams will process and reflect upon each initiative. Processing will center on individual and team responses to each element, as well as translating the experience to those related to real life.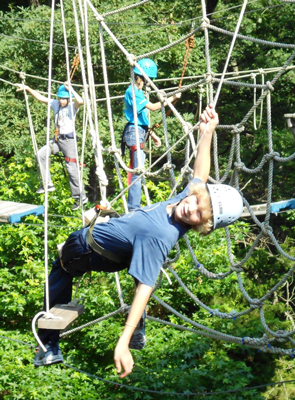 Climbing Tower
$14/person, minimum 8 people
The Climbing Tower is a unique opportunity to try out your sport climbing skills. The climbing tower is a 32-foot vertical wood structure, with three sides for climbing, complete with rock like handholds. Harnesses, helmets and safety ropes are provided. Two or more facilitators assist with the tower. Groups of both children and adults are welcome.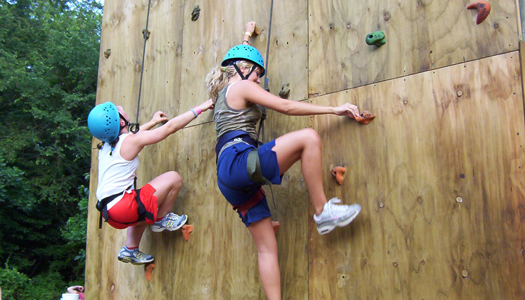 ©Pyoca Camp, Conference and Retreat Center
Please be aware that Pyoca Camp, Conference and Retreat Center does not endorse or control the content of pages on external websites.